October 21, 2019
Vietnam E-visa
Vietnam e-Visa for Indians
Applying for a Vietnam visa for Indians is a straightforward process, thanks to the e-Visa. This e-visa can be applied over the Internet and will only require a few minutes to accomplish. The Vietnam e-Visa can be used in entering the country for tourism purposes with a maximum stay of 30 days. However, this visa is only applicable to a single entry.
If you're an Indian citizen and you plan on going to Vietnam soon, simply go online to apply for your e-Visa. This process would require you to fill out a form with your personal details, such as your complete name, birthdate, etc. After you fill out the form, you need to pay for the visa-processing fee with your debit card or credit card.
Except for a few instances, you should get your e-Visa in your email within 3 business days of applying for it online. The only time it will be delayed is when there are inconsistencies on the information you have provided on the form and the Vietnam immigration will require more details from you. This is why it is best to apply for the e-Visa at least 7 business days before your intended trip to the country.
When your e-visa application is approved, you'll receive the e-Visa in a PDF file through your email. Print this file and bring it on your trip to the country.
Vietnam e-Visa Requirements for Indian Citizens
It's important that applicants are aware of the requirements for applying a Vietnam e-visa for Indian citizens. If you're unable to meet the requirements, your e-visa application will further be delayed. In order to get approved of the Vietnam e-Visa, you must meet the following requirements:
Provide the necessary information during the application, including your complete name, address, and date of birth.
Provide details about your passport, including the expiry date. Remember, your passport must be valid for at least six months from your date of entry.
Some details about your travel itinerary. Indicate how long you plan on staying in the country by providing your travel dates. You must also include the name of the hotel you are staying in and the address.
Digital scan of your passport – you'll have to scan the biographical page of your passport that shows your photo and upload it on your visa application.
After you fill out the application form, you will then be asked to pay for certain fees for the processing of your visa. You can pay with your debit or credit card. Once they received your payment, you'll receive an email confirming this. All you need to do is to wait for your e-Visa copy to be sent via email.
Applying for your Vietnam e-Visa from India
Although it is possible to apply for a visa at a Vietnam embassy in India, the process can take a while since you will be required to schedule an appointment. Thus, applying for an e-Visa is a more convenient option. With an e-Visa, you'd be able to apply for your visa anywhere, for as long as you have an Internet connection.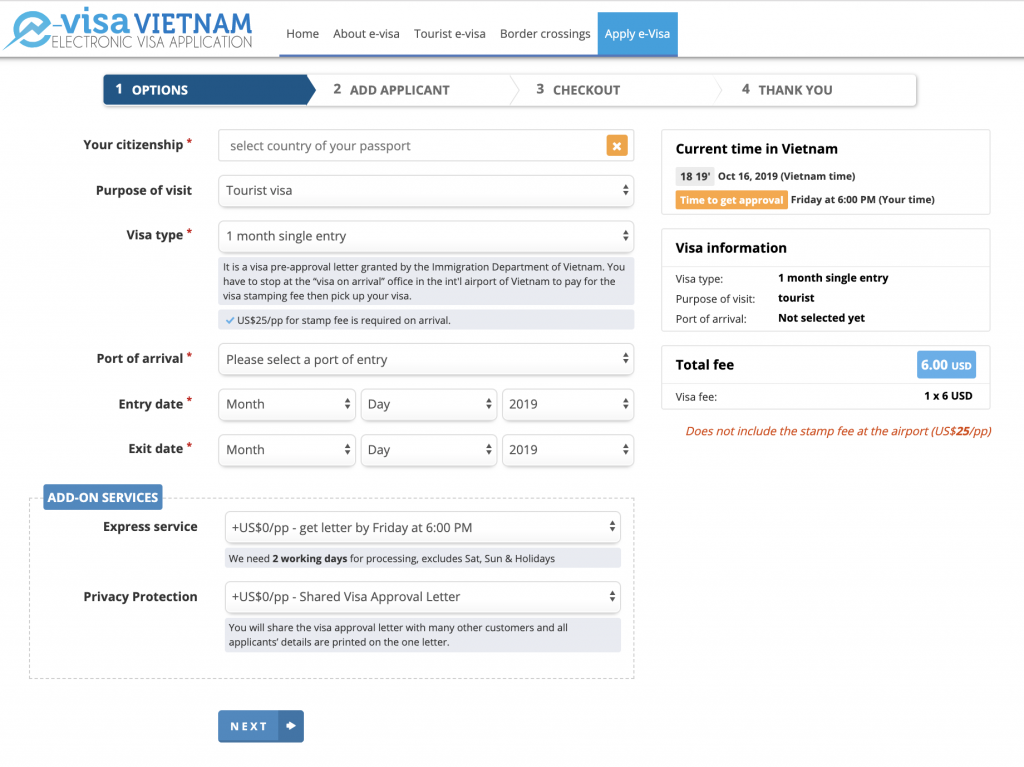 When applying for your Vietnam e-Visa online, make sure you provide accurate details. Your online application will be scanned by a secure database and all the information you have provided will be the basis of the approval of your e-visa. So answer all questions correctly in order not to delay the processing of your e-visa.
Above all, it's very important to make sure that your passport details will match with what's on your passport because the immigration officer will compare the details when you pass by the immigration counter. If the information that's showing on your e-visa is not the same with the details on your passport, then you might not be allowed to enter Vietnam.
Vietnam Visa On Arrival for Indian Passport Holders
Another option for Indian citizens to get a visa to Vietnam is to apply for a Vietnam Visa on Arrival. As the name implies, this visa must be applied as you arrive in the country, which you can do so at some of the International airports of Vietnam. With the Vietnam Visa on Arrival, you have an option to avail of a 90-day visa with multiple entries.
Note : In order to pick up your visa on arrival (at international airports of Vietnam), you must apply online with a visa agency (or travel agency in Vietnam) to request for the visa approval letter from the Immigration Department in Vietnam, this visa approval letter will allow you to pick up your visa on arrival.
However, the biggest disadvantage with the Vietnam Visa on Arrival is that you'll have to queue at the airport when you arrive and this could take a long time if you happen to arrive at about the same time as the other foreign travelers who also need to avail of the visa. This can be very inconvenient especially if you're traveling with kids.
Therefore, applying for the Vietnam e-Visa is still the better option. You can do the application online so there's no longer a need to queue. It's very convenient and less time-consuming.