October 21, 2019
Vietnam E-visa
Vietnam e-Visa for Italian Citizens
For Italian citizens who plan on visiting Vietnam and have no intention of staying in the country for less than 15 days, then you'll be allowed entry to the country even with no visa. However, if you're visiting for more than 15 days, then a visa is necessary. When it comes to this, you can apply for a Vietnam Visa on Arrival, which will allow you to stay in the country for up to 90 days.
Aside from the Vietnam Visa on Arrival, Italian citizens are also eligible to avail of the Vietnam e-Visa. This type of visa can be applied online and will grant you entry to the country for 30 days. What's great about the Vietnam e-Visa is that it's so much more convenient to obtain because you no longer need to queue at the airport to pick up visa as you arrive.
Do Italian Passport Holders Need a Visa to Enter Vietnam?
Italian passport holders don't need a visa to enter Vietnam if their stay in the country is less than 15 days. But that's definitely not enough to see the best in the country.
If you want to discover Vietnam's best attractions and have a relaxing holiday in the country, you should apply for the Vietnam e-Visa. With this e-visa, you can stay in the country for up to 30 days. And since you can apply for this e-visa online, you no longer need to go through the rigorous process of requesting for an appointment at an embassy or lining up along with thousands of other tourists at the airport for visa on arrival.
When you apply for the e-Visa, you'll be asked to provide details from your passport. It's absolutely necessary that you provide accurate details. Otherwise, the processing of your visa will be delayed.
Vietnam e-Visa Requirements for Italian Citizens
Although the process of applying for an e-Visa is very easy, there are certain requirements that you need to meet to ensure that you'll be approved of the visa. The process of application is so easy and all you need to do is to fill out the application form.
There are certain requirements that an Italian citizen must fulfill in order to be approved of the Vietnam e-Visa. Applicants are required to provide important information including brief details about their medical history and if they have availed any vaccinations. In addition, travelers will be required to provide details about their accommodation in the country, such as the hotel name, address, and how long they plan on staying.
To give you an idea, here are the Vietnam e-Visa requirements for Italian citizens:
The visa application must be done at least 7 days before arrival in Vietnam.
Completely filled out personal information, including name, address, date of birth, etc.
Scanned copy of your Italian passport's biographical page showing a clear photo of you. The passport must be valid for at least 6 months from your date of arrival in the country. Also, it should have two blank pages for the visa stamp.
Information about your travel plans. This includes the name of the hotel will you will be staying, the address of the hotel, and the expected date of stay in such a hotel.
Health information – you will be asked to provide some details about your medical history and past vaccinations.
After you're done filling out the form with the details above, you'll be asked to make a payment for the processing of your e-visa. For this, you can pay using your credit card or debit card.
Applying for Vietnam e-Visa from Italy
The biggest advantage of applying for an e-Visa is that you can apply for this visa anywhere you are in the country. You don't need to go to a Vietnam embassy or queue at the airport for the visa on arrival. Since the process of application can be done over the Internet, you can apply for this e-visa even when you're still in Italy. The application is pretty straightforward and you should be able to finish it in only a few minutes. To avoid details, make sure you have your passport with you during the application since you need some details from it.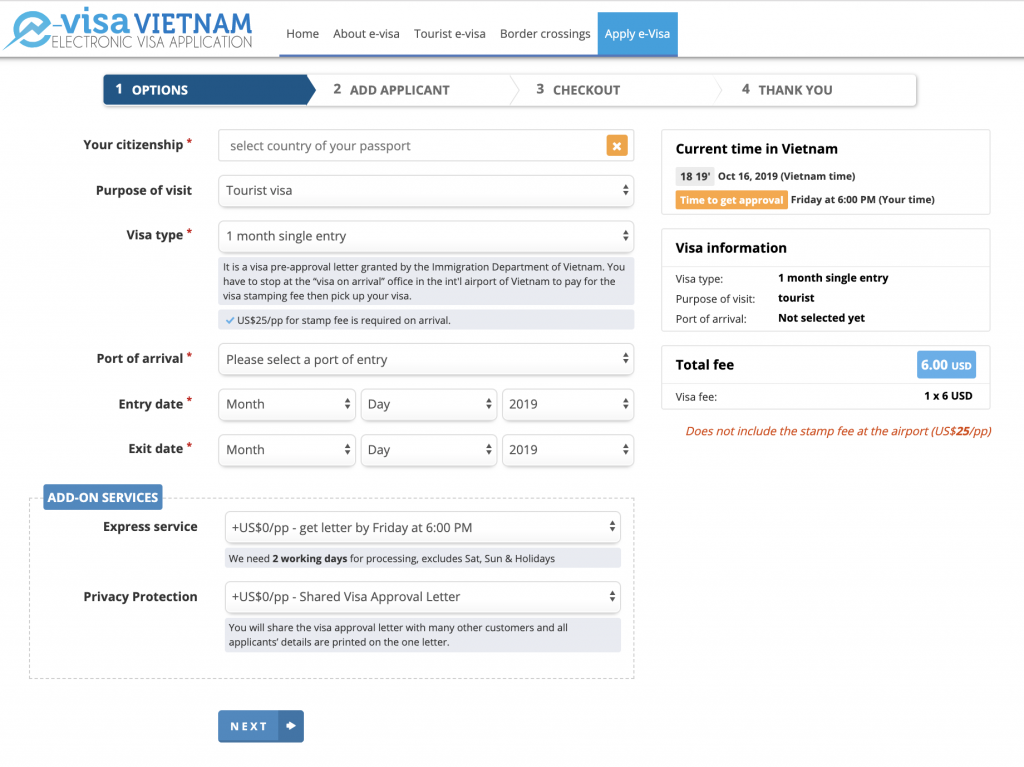 For Italian travelers who have dual citizens, make sure you bring the passport that you have used during your visa application. You will be asked to present the passport at the immigration counter and the officer will match the details of the e-visa with that of your passport.
After making a payment, you will receive an email confirming the application. Wait for up to 3 business days for the e-Visa to be sent to your email. This will usually come in a PDF format and when you receive this file, simply print it out and carry on your trip to the country. There are times that the processing could take more than 3 business days but these are only rare instances. This is why you are advised to apply for the visa at least 7 days before your trip to Vietnam.