October 22, 2019
Vietnam E-visa
Vietnam e-Visa for Korean Citizens
Good news for Korean citizens visiting Vietnam soon because the country is now offering an electronic visa, also known as e-Visa. This visa can be applied online so there's no longer a need to schedule an appointment at a Vietnam embassy in Korea. All you need to do is go online, fill out the application form, and make a payment.
The Vietnam e-Visa is available to citizens of 81 countries including South Korea. Since the application is done online, you can apply for this e-visa ahead of your trip. When the e-visa is approved, it will be sent to you by email in a PDF file. All you need to do is print the file and carry it on your trip. As you pass by the immigration at the Vietnam airport, simply present the printed copy of your e-Visa along with your passport.
Do South Koreans Require a Visa to Visit Vietnam?
Recently, more and more South Korean citizens are visiting Vietnam for a holiday. That's not really surprising given the sheer number of tourist attractions to enjoy in Vietnam. The country is home to some of the most unique historical sights and has the most stunning natural landscapes.
It's not necessary for South Koreans to apply for a visa to enter Vietnam if their intended stay is less than 14 days. But this is not enough to see everything that this country has to offer. This is why most Korean tourists need to apply for a visa when entering the country. Now that the e-Visa is here, applying for a Vietnam Visa for Korean Citizens is now so easy.
The e-Visa would allow Korean citizens to stay in the country for up to 30 days. This visa can be applied online by filling out a form with your personal information and other important details. You can use this e-visa to enter Vietnam for various purposes, whether it's for tourism, study, business, or visiting relatives.
Take note that the Vietnam e-Visa is only a single-entry visa and this means that you can only enter the country once using this visa. If you need to exit out of the country, you have to apply for another visa before you can re-enter.
Requirements for Vietnam e-Visa for South Korean Citizens
There are certain requirements that South Korean passport holders must accomplish in order to be allowed entry to Vietnam using the e-Visa.
The most important requirement would be the South Korean passport. A copy of the passport's biographical page that shows your photo must also be submitted when applying for the e-Visa. Above all, the passport should be valid for at least 6 months from your arrival date to the country.
Aside from the passport, it's also important that you have a valid email address. As mentioned above, the e-Visa will be sent to your email so you can print the document and bring it on your trip. Finally, you also need to have a debit card or credit card to pay for the e-visa processing fees. Since the application of your e-visa will be done online, the payment has to be done online as well. Once your payment is received, you will receive an email confirming that your e-visa is already being processed. You just need to wait for another email for a copy of your e-Visa.
Vietnam e-Visa Application for South Korean Citizens
Application for the e-Visa is done online so you need to get access to the Internet to be able to apply for this e-visa. When you're online, simply go to the website and fill out the application form. Here's the information that will be asked from you when applying for the eVisa online:
Personal details including your complete name, birthdate, nationality, address, etc.
Information from your passport, such as the passport number, expiration date, and other details.
Travel details including the date you intend to enter and exit the country. Name of hotel and address and the place you plan on visiting in Vietnam.
Health information including medical history and vaccinations.
It is very important that you provide accurate information on your visa application form. Otherwise, your application could be rejected or delayed. Also, if the information will not match with what's on your e-visa, you might not be allowed entry to the country. So to avoid these problems, double-check your application before submitting it.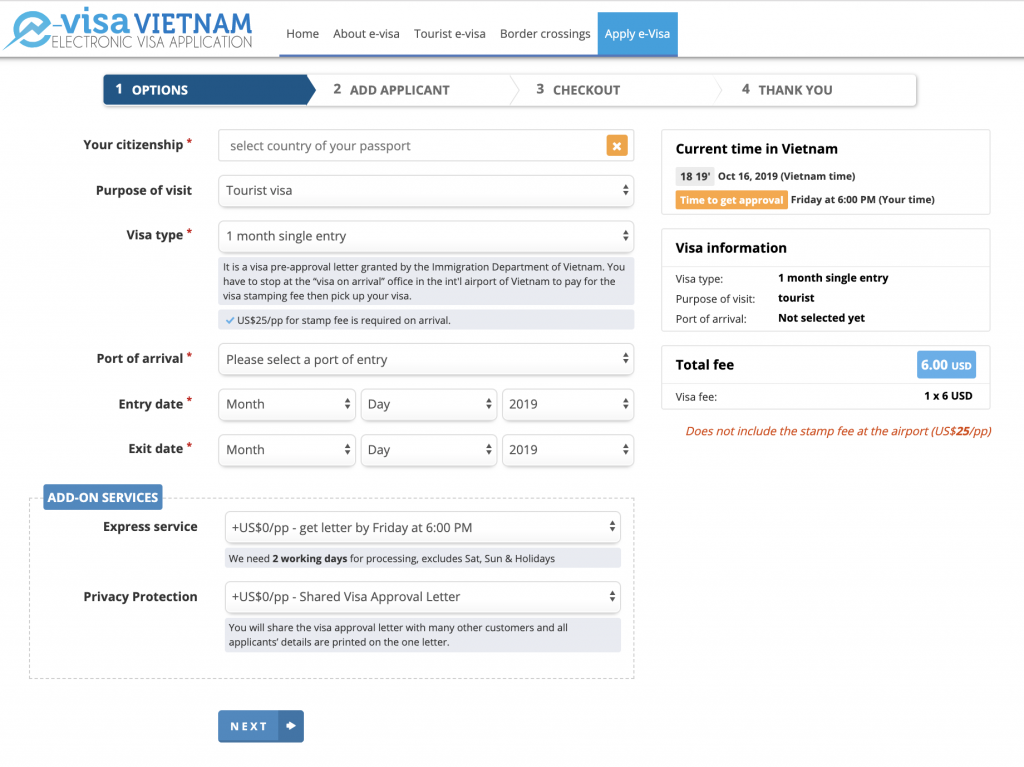 The processing time will normally take 3 business days only. However, there are rare instances when the processing of the e-visa will be delayed. This is why it's highly recommended that travelers should apply for the visa at least 7 days before their arrival date.
Don't forget to bring a printed copy of the e-visa on your trip to Vietnam. Also, if you're a dual citizen, make sure you bring the passport that you have used in your e-visa application.