October 19, 2019
Vietnam E-visa
Vietnam e-Visa for US Citizens
Applying for a Vietnam Visa for American citizens is now so easy, thanks to the Vietnam e-Visa, an electronic visa that will allow Americans to stay in the country for a maximum of 30 days.
Applying for the e-Visa is so easy. The process can be completed in only a few minutes and everything is done online. You just need to fill out the application form online, make a payment and wait for an email!
It will usually take around 3 business days for the e-Visa to be processed. In some rare instances, however, the process could take longer. This is why American citizens who plan on visiting Vietnam soon should apply for the eVisa at least 7 business days before their trip.
Applying for a Vietnam e-Visa for US Citizens
You no longer need to go to a Vietnam embassy in the US to apply for your visa to Vietnam. E-Visa Vietnam can be applied online anywhere you are in the world, for as long as you are connected to the Internet. You just need to fill out an online application form and include details about your passport and other important data. After you're done filling out the form, make a payment and wait for an email for your e-Visa.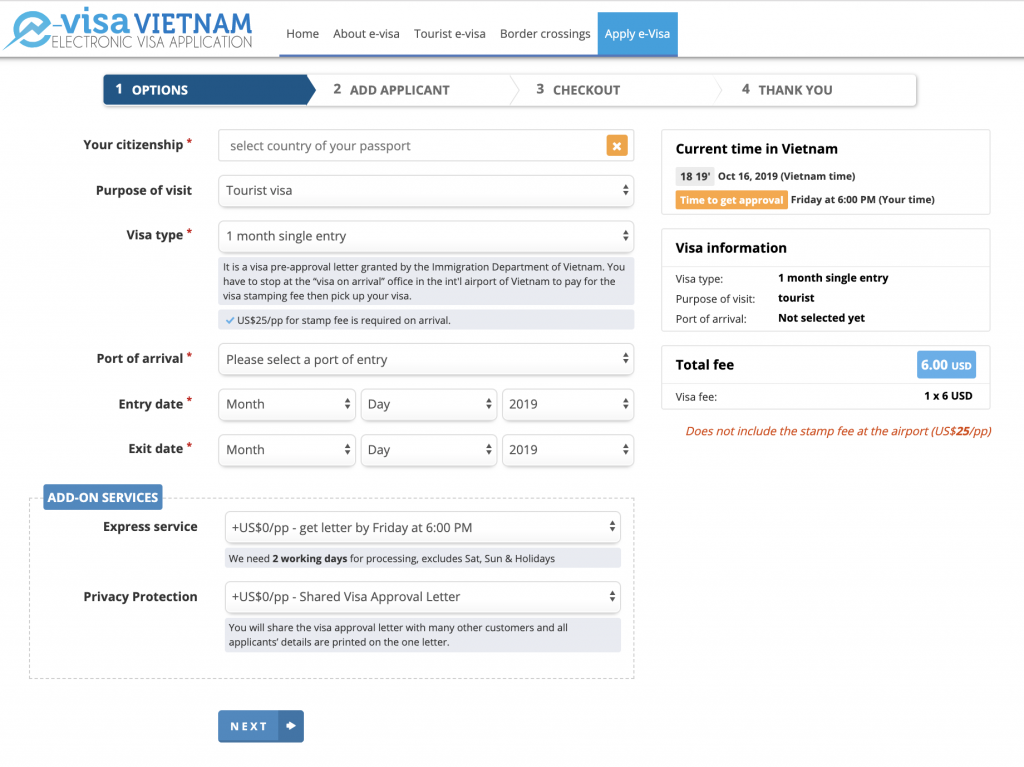 It's very important that you provide accurate information when filling out the online form. This will be thoroughly screened by Vietnam immigration officials to ensure that your data is accurate. To avoid delays in the processing of your e-visa, make sure your information matches what's on your passport. Also, the information should match the passport that you will take on your trip. Americans who have more than one passport should only use one passport in the application for their Vietnam e-Visa.
Vietnam e–Visa Requirements for American Passport Holders
In order to qualify for the Vietnam e-Visa, American citizens must meet certain requirements. To give you an idea, here's what you need to fulfill when applying for the visa:
Provide all the necessary information – make sure you provide everything in the online application form. These include your date of birth, complete name, and address. You will also be asked to provide details from your passport such as the expiration date. Remember, your passport should be valid for at least 6 months from your arrival date to the country.
US Passport – you need to provide a digital scan of your passport's biographical page. This page should display your face clearly.
Payment for e-Visa fees – the final step of your e-Visa application process is to make a payment. So make sure you have your credit card or debit card with you when applying for your e-Visa online. Your visa will only be processed after they receive and confirm your payment.
After about 3 business days, you will receive your e-Visa on the email address you have provided. So make sure that you double-check the email address you have entered so there won't be any problems or delays with the processing of your e-visa.
Visa on Arrival for US Citizens
Aside from the Vietnam eVisa, another option for US citizens to enter Vietnam is to apply for a Visa on Arrival at the airport. As the name suggests, this visa will be applied as you arrive at the airport in Vietnam.
What's great about the Visa on Arrival is that you will be able to choose between a single or multiple entry visas. Thus, it is recommended to American travelers who plan on staying for more than 30 days in the country and have plans to re-enter within a 60-day period. But the disadvantage is that you will have to queue for this visa at the counter in the airport, which can be a hassle especially if you happen to arrive during the peak season.
Furthermore, the visa on arrival is only available from the International airports of the country. So if you're entering Vietnam through a land border or at a seaport, you might as well go for the e-Visa option.
But if you find that the Visa on Arrival is more suitable for you, then you should request for a pre-approval letter. You need to print this letter and carry it with you on your trip. Present the letter along with your two passport photos at the airport. You'll then have to pay for the stamping fee at the visa counter. They only accept US dollars or Vietnamese Dong.
If you only need to stay in Vietnam for one month and don't need multiple entries for your visa, you might as well apply for the e-Visa. This is a more convenient way of getting a Vietnam Visa for American citizens. Applying for the e-Visa is so easy and will only require a few minutes of your time.